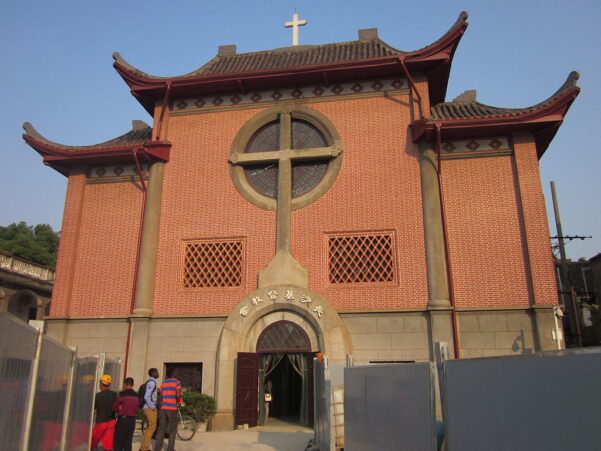 The Uyghur Muslim population of China is being savagely persecuted by the Chinese State, but an overall crackdown on religious believers, including Christians, is taking place, and has been intensifying.
In its report, 'Persecuted and Forgotten', Aid to the Church in Need describes how President Xi Jinping has called Christianity "a foreign infiltration". It refers to "increased hostility to Church communities, accused of resisting government control, has resulted in the widespread removal of crosses from churches and the destruction of church buildings. Some regional authorities have banned Christmas trees and greetings cards."
The report goes on to say: "There has been a renewed crackdown on Church leaders considered dissidents by the regime, notably Bishop Vincent Guo Xijin of Mindong and Bishop Peter Shao Zhumin", who has been repeated harassed.
A report issued last year by the Pew Forum, listed China as placing the worst restrictions on religious freedom of any country it could measure. (It did not measure North Korea, which is undoubtedly worse, because it is a closed society).
The US Commission on International Religious Freedom found a similar picture in its latest report.
On the situation of Christians in China specifically, it points out: "Chinese authorities raided or closed down hundreds of Protestant house churches in 2019, including Rock Church in Henan Province and Shouwang Church in Beijing."
It describes how, in December 2018, the government "a court charged Pastor Wang Yi with 'subversion of state power' and sentenced him to nine years imprisonment."
It goes on: "Local authorities continued to harass and detain bishops, including Guo Xijin and Cui Tai, who refused to join the state-affiliated Catholic association."
It says: "Several local governments, including Guangzho city, offered cash bounties for individuals who informed on underground churches. In addition, authorities across the country have removed crosses from churches, banned youth under the age of 18 from participating in religious services, and replaced images of Jesus Christ or the Virgin Mary with pictures of President Xi Jinping".
These are the worst crackdowns since the time of Chairman Mao.
It seems hard to imagine for those of us who live in a free world that in China the Bible and other religious texts have been removed from online booksellers, including Amazon. To circumvent internet censorship, Christian organisations have to drop the name of 'Jesus' from book titles and replace it with initials or with other expressions.
Christians have been arrested for selling audio Bibles. From a legal point of view, the book can only be distributed by the agencies approved by the government that supervise and control the activities of Christian churches.
As a result of censorship, many religious bookstores have closed their activities or operate clandestinely.
'Bitter Winter' is a magazine covering religious freedom and human rights in Asia, particularly in China.
They report that churches are constantly asked to remove religious symbols and paintings inside, and the cross outside, and to replace them with party symbols such as the five-pointed star or the communist party flag.
Those who refuse to join the state-approved Chinese Patriotic Catholic Association are subjected to all sorts of discrimination. Non-approved churches and meeting avenues are systematically shut down.
For instance, in the city of Wenzhou, with a population of 9 million, over 1,600 churches have had their crosses being burnt or destroyed, according to China Aid, a US group that helps the persecuted Christians.
Even for State-approved churches it is very hard to practice the faith. Local officials impose various sanctions or restrictions to limit religious activities.
According to the Christian Post, "To discourage churches from meeting for the holidays, government officials required a state-sanctioned Catholic church in Jiangsu province's Wuxi city to obtain approval from at least eight offices before it was permitted to hold Christmas mass."
Those of us who live in the West have little idea of the suffering of millions of people in the biggest country of the world. It is not an exaggeration to claim that never in history so many Christian believers have been oppressed by a despotic and atheistic regime.
Western countries tend to ignore or downsize the atrocities happening in China, for economic interests or for fear of a powerful state that has a strong influence internationally. But how can we deal with a regime that negates religious freedom and at the same claim we believe in human rights? The freedom to practice your faith is one of the most fundamental human rights. It is time for Ireland and other countries to denounce the brutalities experienced by religious believers in China, including Christians, and to act accordingly, even if it hurts trade.